Answer Quest Technologies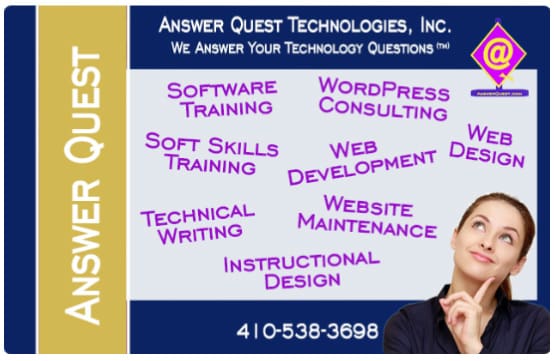 Answer Quest — We Answer Your Technology Questions ™
Offering Practical Solutions to Meet All of Your Business Needs
Software Training
HR / Soft Skills Training
Virtual Live Training
Seminars / Webinars
Video Training Library
Assessment Testing
Web Design
Web Development
Web Maintenance
WordPress Consulting
Technical Writing / Instructional Design
Technical Services
Answer Quest Technologies, Inc. provides a wide range of services listed above including WordPress Consulting and Webmaster Services.  A State of Maryland Certified Woman-Owned Business, Answer Quest has been providing services since 1998.
Based in the Mid-Atlantic near Baltimore, Maryland, Answer Quest offers on-site services and has easy access to the surrounding areas (from Washington, D.C. and Northern Virginia to Philadelphia and Pittsburgh).  Answer Quest will travel nationwide to provide on-site services at your location.
Answer Quest offers the same services on-line as are offered on-site.  Using today's on-line technology, either one-on-one or as a virtual group, our clients can be located anywhere.
No matter what type of services you need, whether on-site or on-line, think of Answer Quest for all your training, technical writing and web services needs.