Arbutus Volunteer Fire Department
410-242-6601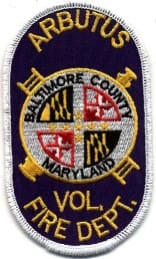 The Arbutus Volunteer Fire Department, Inc. proudly protects 50,000 people in a 40-square-mile area of southwest Baltimore County, Maryland. We are an all-volunteer, non-profit organization dedicated to providing the highest quality Fire, Rescue, and Emergency Medical Services to our community
AVFD-Station 350 is one of 33 volunteer fire companies in the county. The volunteer companies work hand-in-hand with 22 career stations serving a population of over 800,000.
In addition to Fire and Rescue services, the AVFD is one of only two stations in Baltimore County to operate double-Advanced Life Support medic units. In 1999, we proudly added a Swift Water Rescue Team to our response capabilities.
Our most ambitious in-house challenge has just begun: Raising the funds necessary to construct a new station. We welcome all who would like to be part of this project as well as any of our other activities.
Bingo: Mon/Tue/Thu/Fri/Sat @ 7:15pm